Faja Stage 2 360 Lipo Dual Zipper with Sleeves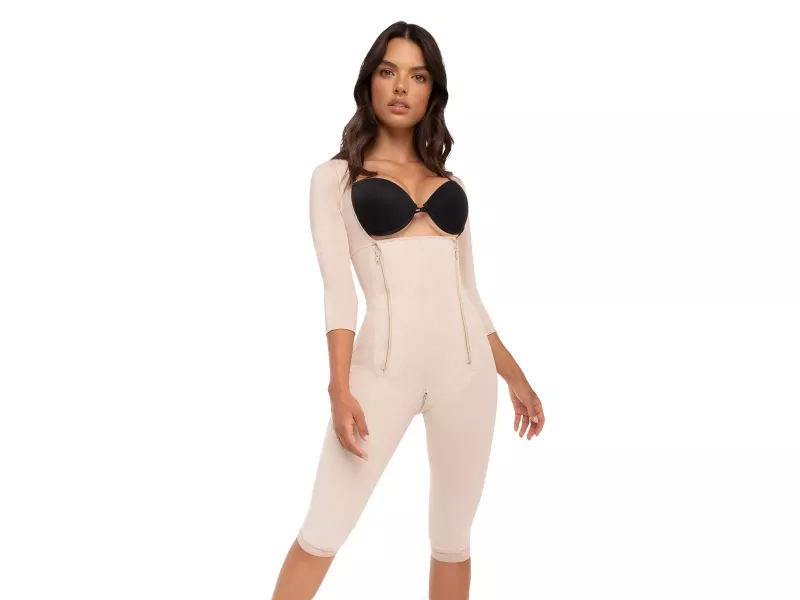 description
Runs 1-2 sizes small. Based on reviews a size Large runs like a Small.
The Faja Stage 2 Dual Zipper with Sleeves is the perfect solution for recent lipo, 360 lipo, and tummy tuck patients. This innovative faja is designed to make recovery comfortable and easy. The dual front zippers make it ideal for tummy tuck and lipo recovery, while the knee-length 360 lipo high compression material maximizes compression throughout the body.
The faja features dual sleeves and a high back design, which further enhance the compression and provide a complete solution for those who have had lipo in multiple areas, including the arms. However, this product is not recommended for use by bbl patients.
The Faja Stage 2 Dual Zipper with Sleeves is incredibly easy to put on and take off, making it an ideal choice for those who may have limited mobility during recovery. It is available in beige and sizes Small to 2XL. Please note that the faja does run small, so it is recommended to size up.
Overall, the Faja Stage 2 Dual Zipper with Sleeves is a must-have for anyone recovering from lipo, 360 lipo, or tummy tuck surgery. It provides superior compression and comfort, allowing you to focus on your recovery and achieve the best possible results.
Please select your  size based on your measurements, follow these steps  below(using a measuring tape): 
1. Locate your natural waistline (sits above the belly button), make sure you are fully relaxed, do not suck in your stomach, and make sure you don't pull in your measuring tape too tight. 
2. Measure your hips: Measure at your hip and around the largest part of your buttocks.
Please be advised all bodies are different. These garments have limited stretch. If you have full thighs we recommend selecting a size up. If you are a post-op customer with high inflammation, we recommend sizing up.
Reference: Model with a 27.6 inch waist and 40 Hip (High inflammation) wears a LARGE.
Faja Stage 2 360 Dual Zipper + Sleeves Size Chart
ATTN: How to try on the garment:
Please be advised due to powernet fabric you must break in the garment, fold the adhesive lace up,  align the seams to your inner thigh, pull up the garment, and move your legs close (stance should be no more than 5 inches apart), now closing the garment from the bottom hook and move up. and zip. 
Faja Size Chart
The faja sizes take into account weight, waist and type of use (daily or post-surgical).

Faja fajas run small. Due to the garment's high compression fabric always select at least one size above your everyday size. In addition, if you are between sizes please select one size up.
WAIST: Measure above the navel towards the upper end of the ribs. You should be measuring the thin part of your body.
HIPS: Measure the widest part of your body. Your legs should be together and should not be rubbing against each other.
PRO TIP: Remember to gradually increase the compression of your faja overtime.
SIZE / TALLA


COL - USA

WAIST / CINTURA


MEASUREMENTS (in)

HIP / CADERA


MEASUREMENTS (in)

S
23.9" - 26.3"
35.4" - 38.5"
M
26.7" - 30.7"
38.9" - 43.3"
L
31.1" - 35"
43.7" - 47.2"
XL
35.4" - 39.3"
47.6" - 50.3"
2XL
39.7" - 42.1"
50.7" - 53.1"
3XL
42.5" - 44.8"
53.5" - 55.5"