Only %1 left
SKU
Faja Stage 3 Knee-Length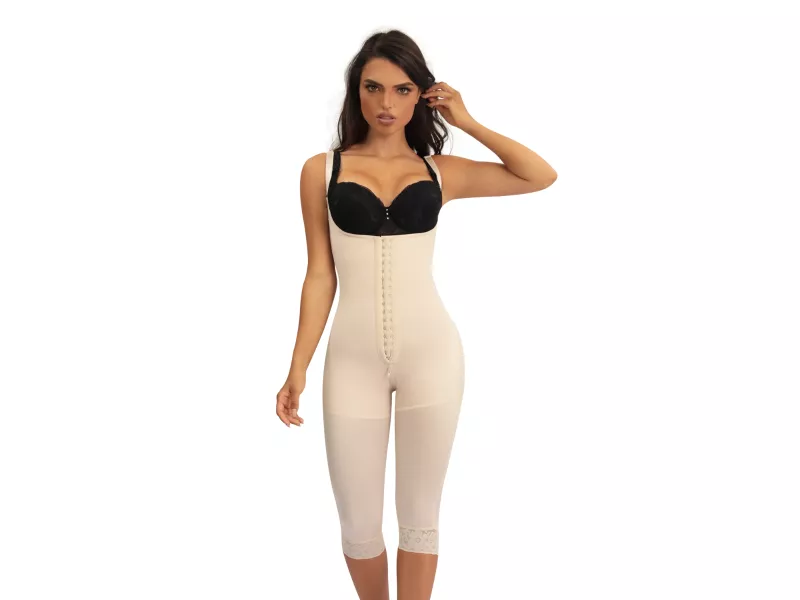 description
Faja Stage 3 Knee-Length
Runs small. To determine your size you must use the size chart below only. If you are in between sizes or post-op (high inflammation) we recommend sizing up. Follow the try-on guide below the size chart.
Designed for post-op use at least 12+ weeks after surgery. This is the Faja that you need to help your body finish adapting to its final state. Because ceasing the compression of your postoperative faja immediately is too drastic and not good for your final results. This faja is our best seller in our retail locations. 
This garment was designed to be the most comfortable faja in our catalog while still providing the ideal compression your body needs during this wine down period. Remember, you must dress with compression. 
Colombian manufacturing is made with the highest quality materials and production methods. Interior is lined with 92% Nylon and 8% Spandex materials which are soft and gentle on the skin while keeping your body cool. The exterior is made of Medium High Compression material composed of 51% Nylon and 49% Spandex.
Zipper Gusset Closure. Two rows of hook and eye closure. Adjustable shoulder straps. Low back design makes this faja a great companion to your favorite outfits.
Reference models wears a MEDIUM.
Please select your  size based on your measurements, follow these steps  below(using a measuring tape): 
1. Locate your natural waistline (sits above the belly button), make sure you are fully relaxed, do not suck in your stomach, and make sure you don't pull in your measuring tape too tight. 
2. Measure your hips: Measure at your hip and around the largest part of your buttocks.
Size Chart
| | | |
| --- | --- | --- |
| Size | Waist (inches) | Hip (inches) |
|  S | 23.9 - 26.3 | 35.4 - 38.5 |
| M  | 26.7 - 29.7  | 38.9 - 43.3  |
| L  | 31.1 - 33.0  | 43.7 - 47.2  |
| XL  | 34.0 - 39.0  | 47.6 - 50.3  |
| 2XL | 40 - 42.5 | 50.7 - 53.1  |
| 3XL | 43.0 - 44.8  | 53.5 - 55.5  |
Faja Size Chart
The faja sizes take into account weight, waist and type of use (daily or post-surgical).

Faja fajas run small. Due to the garment's high compression fabric always select at least one size above your everyday size. In addition, if you are between sizes please select one size up.
WAIST: Measure above the navel towards the upper end of the ribs. You should be measuring the thin part of your body.
HIPS: Measure the widest part of your body. Your legs should be together and should not be rubbing against each other.
PRO TIP: Remember to gradually increase the compression of your faja overtime.
SIZE / TALLA


COL - USA

WAIST / CINTURA


MEASUREMENTS (in)

HIP / CADERA


MEASUREMENTS (in)

S
23.9" - 26.3"
35.4" - 38.5"
M
26.7" - 30.7"
38.9" - 43.3"
L
31.1" - 35"
43.7" - 47.2"
XL
35.4" - 39.3"
47.6" - 50.3"
2XL
39.7" - 42.1"
50.7" - 53.1"
3XL
42.5" - 44.8"
53.5" - 55.5"